On-Site Massage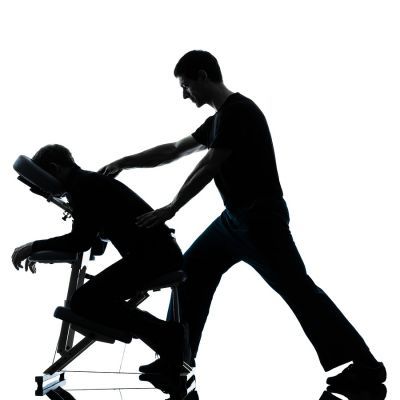 On-Site Massage, otherwise known as Seated Chair Massage, is a healthy and productive addition to your company, organization or group!
Licensed massage therapists will come to your location and provide professional 15 to 30-minute neck, back, shoulders, arms and hands massages to your employees, volunteers, or family and friends. These highly effective massages are done, without oils or lotions, through the client's clothes as they relax on a specially designed massage chair.
Rates may vary depending on the number of participants, but the average cost is $80.00/hour with a minimum of 2 hours of work. For more information or to get a rate proposal, please contact me at 813-361-8770.
List of Recent Clients:
BHS; CareFirst Onsite
Bodywork Alternatives LLC; Power Design Inc
Body Techniques; Gaylor Electric, Inc.
Body Techniques; Hancock Askew & Co
Body Techniques; Oldcastle Inc/Preferred Materials
Body Techniques; Shutts & Bowen LLP
Courtyard by Marriott Tampa Westshore/Airport
Fizzee-O-Fit; Kforce Services Corp
Grana Physical Medicine
Guardian Music and Group Travel; FL Music Educators Assn
Health Fairs Direct; Corporate Wellness Event
HealthFitness; Johnson & Johnson Global Services
Health Fitness Concepts; AllianceBernstein L.P.
Hyde Park United Methodist Church
Impact Wellness Inc; Health Plan Services
Impact Wellness Inc; North America Capability Center
Impact Wellness Inc; St. Joseph's Hospital
Impact Wellness Inc; Total Therapy
Manheim Inc: Tampa/Lakeland
Massage By Design Inc; JP Morgan Chase
Massage By Design Inc; Lee Academy
Massage By Design Inc; Nielsen Corp
Massage On The Go USA; University of Tampa
National Aviation Academy
Newport Group
Oak Grove Elementary School
Palm Garden of Sun City LLC
Post Properties/Rocky Point
Private In-House Massage Pamper Parties
Sailport Waterfront Suites
Seasons Hospice & Palliative Care
Small Blessings School
That's The Spot Massage Therapy Inc; Airlines Reporting Corp
That's The Spot Massage Therapy Inc; Inovalon, Inc
WellCare Health Plans, Inc